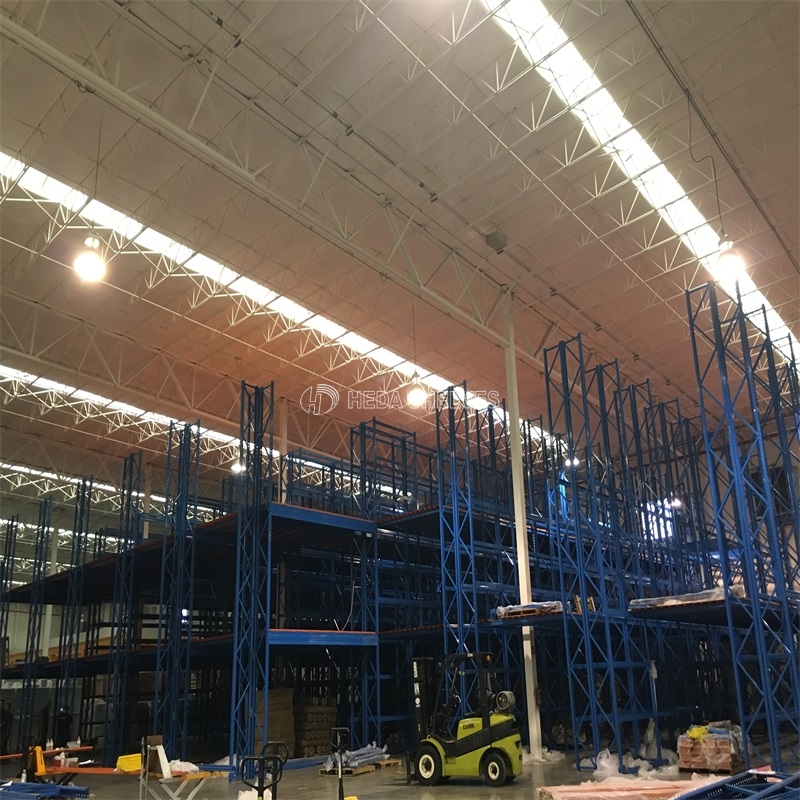 The HEDA mezzanine system is highly stable, flexible and available in a number of variants. This means it integrates well into many different warehouse designs.
The installation's multi-tier design lets you design each tier to meet a different set of requirements, making effective use of cost-intensive storage space.
f you need to store heavy loads, you need to use a corresponding high-capacity, suitably designed shelving system. Thanks to an extremely stable self-supporting steel frame, the mezzanine system is ideally suited to storing heavy loads - for storing distributed loads up over 1,000 kg/m², given a suitably sturdy warehouse floor.
This system provides excellent maximisation of height by creating different floor levels accessed by means of stairways.
Warehouse Storage Steel Structure Mezzanine provides multi-level systems which significantly increase your storage capacity by expanding vertical space. It utilizes most bulk and space saver sizes and constructions in a variety of combinations to take full advantage of valuable warehouse space. Unlike conventional steel constructions, it can be easily expanded, moved or modified for future requirements.
The stairways to the mezzanines are equipped with safety barriers and can be optionally supplied with or without an intermediate landing. The steps can be safely climbed and are available in tread widths of 800, 1,000 or 1,200 mm. Depending on your needs and requirements, they can be made from galvanised mesh, chequer plates or wood.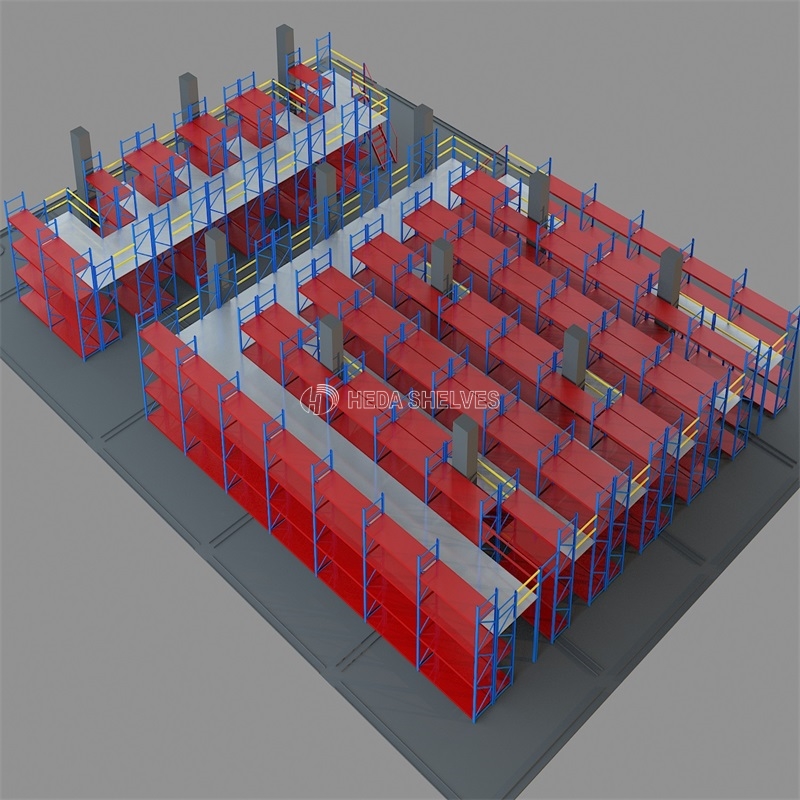 ABOUT HEDA SHELVES
We have gained great credit from our foreign customers. We serve clients with the consistent principle of "the Best Quality, Durable Structure, Perfect Design,Punctual delivery and Customer Satisfaction". Scientific designs, delicate workmanship, reasonable prices and the best services make our corporate image perfect. Our development relies on your active participation and we will make every effort for further growth. For your support, we will move forward and further be the perfect shelf manufacturer and your best business partner!
Guangzhou HEDA Shelves Co., Ltd., established in 2011, is a professional company specializing in designing, manufacturing, selling and installing all types of displays and storage shelves, supermarket equipments. HEDA Shelves Co., Ltd. located in Pazhou - the Exhibition Base of Chinese Import and Export Fair Complex. We participates in many exhibitions every year, such as Canton Fair, TILOG - LOGISTIX 2018, etc. We have made various fashionable and shelves for different well-known brand customers. Our products are very popular in Southeast Asia, Japan, America, Canada, Australia and Europe. Our factory is about 12000 square meters and has various machine equipments, such as punching machine, pressing machine, bending machine, welding machine and so on. Our products include the following series: warehouse storage shelves (light-duty shelves, medium-size shelves, heavy-duty shelves, warehouse racks and storage pallets), supermarket shelves (light-duty gondolas, heavy-duty gondolas, promotion carts, shopping trolleys, shopping baskets and checkout counters), tool display racks and more. All the products can be customized.