WHAT IS DRIVE IN RACKING?
Drive In rack is one of the most commonly used heavy duty rack. This system is used for warehouses that require to store large quantities of homogeneous goods. Learning about its features helps you know whether this is the optimal chooice for your business. HEDA will support you find out what is Drive In racking and its characteristics through the following article.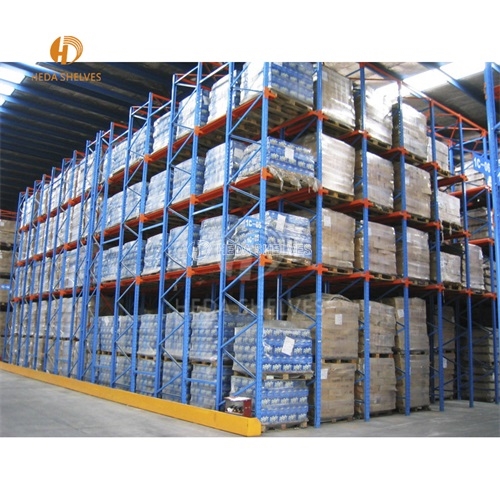 Drive In racking system is a storage solution with extremely high density. Aisle space is minimized to increase the amount of stored goods, so forklifts move directly into the rack for loading and unloading. Each level has guide rails to guide and place the pallets inside the system.
Drive In rack is designed for warehouses that use pallets of only one size. This system applies LIFO (Last In Fist Out).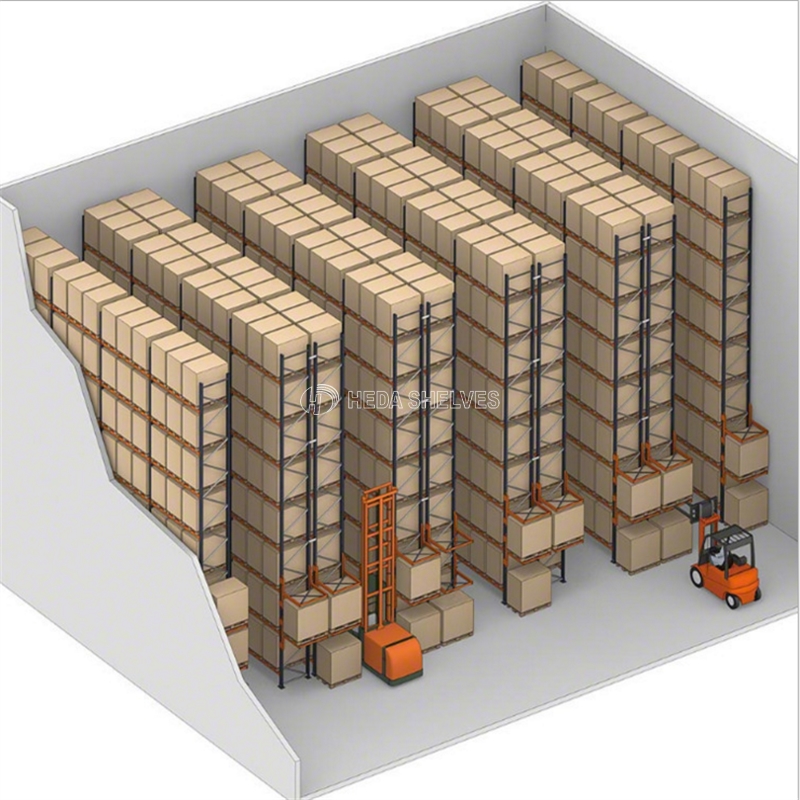 Structure of Drive In rack
Drive In pallet racking includes 8 basic components:
Upright frame: Bear for the whole system.
Horizontal brace: Disperse force between the upright frames.
Top beam: Connect between 2 upright frames, because there is no beam.
Batter brace: Support top beams connect upright frames.
Footplate: Connect the upright frames to the floor and keep the system steady.
Guard rail: Protecting the system from collisions.
Support arm: Bear the pallet weight and disperse force to the upright frames.
Pallet rail: Support to keep pallet stable.


Advantages Drive In system
Drive In pallet rack have a lot of advantages:
Use up to 70% of the warehouse area.
Extremely high density storage.
Suitable for storing a large amount of homogeneous products
Great solution for warehouses where you do not need to take exactly individual goods.
The rack is linked by bolts, so it is easy to move, change the structure and upgrade as needed.
These are the great advantages of the Drive In system. In many cases, enterprises often use this rack with Selective system or Double Deep system. This combination will help you store diverse items.

What are the use cases for Drive In racking?
Because Drive In rack has a some restrictions, it is just suitable for some cases:
When you need to store large amounts of homogeneous products.
You do not have to reach the goods directly.
No matter the order of loading and unloading goods.
Cold warehouses need to increase storage density to reduce operating costs.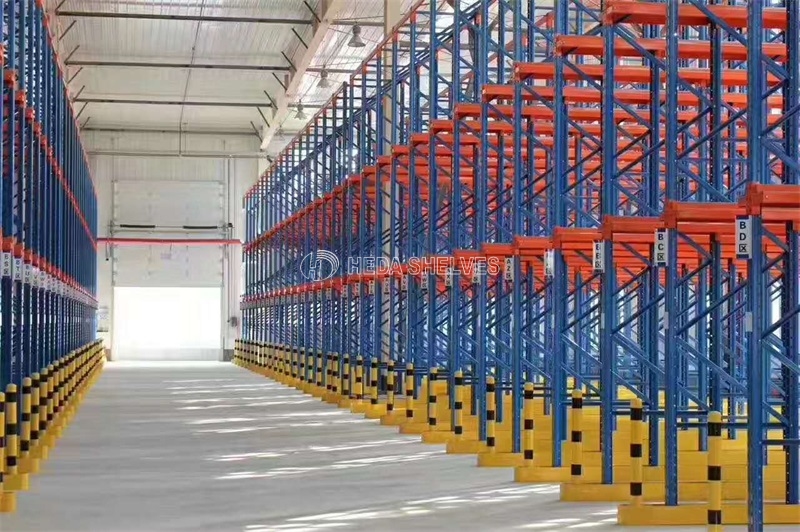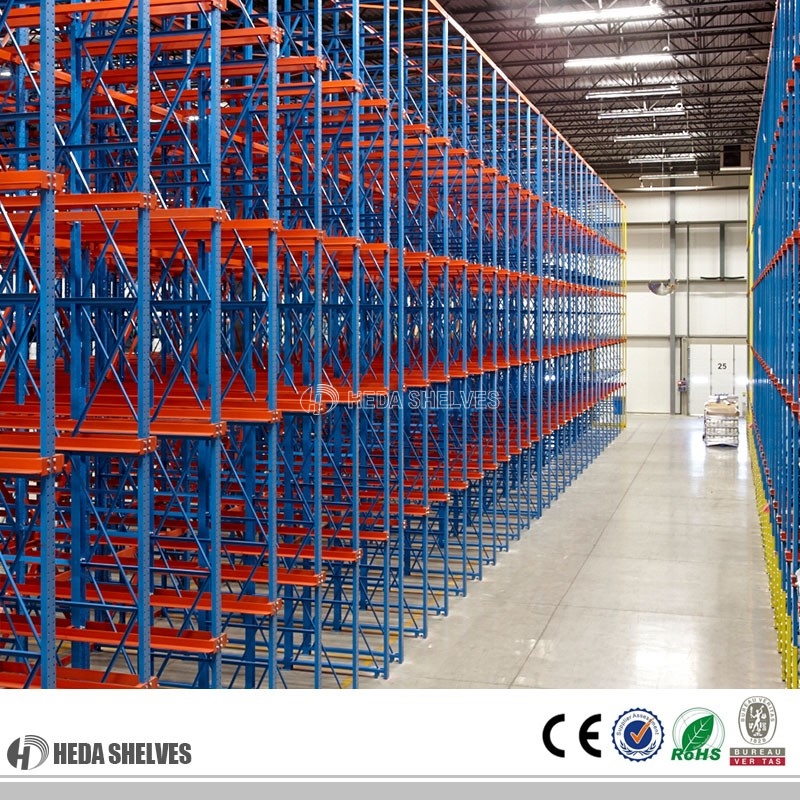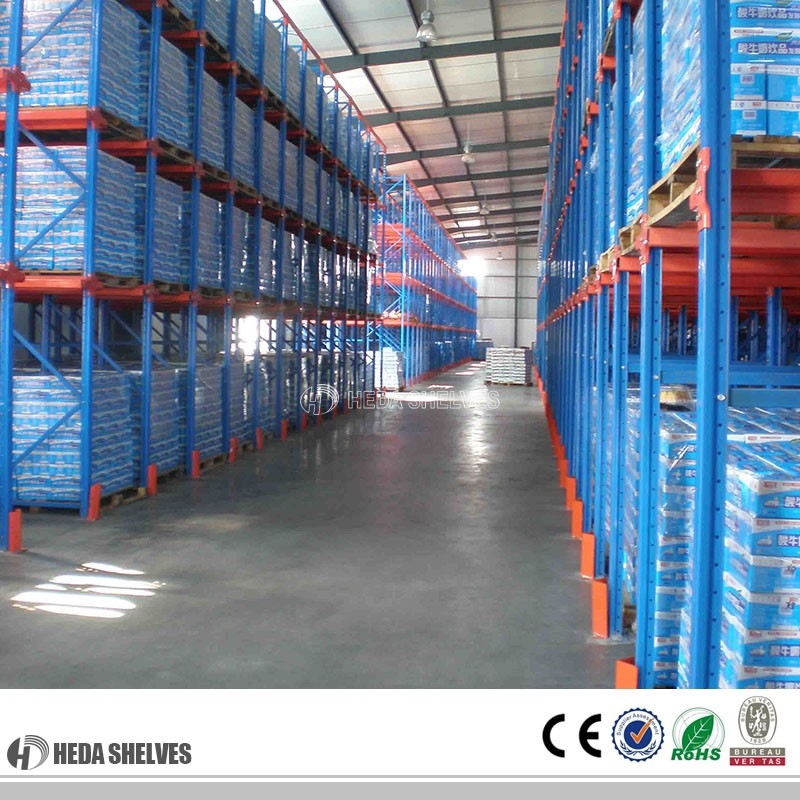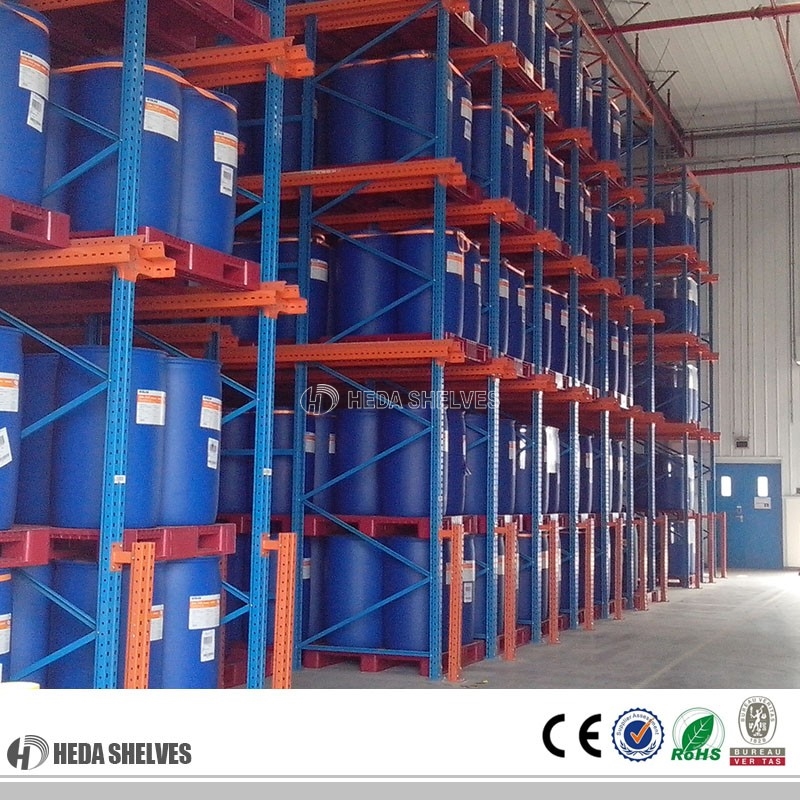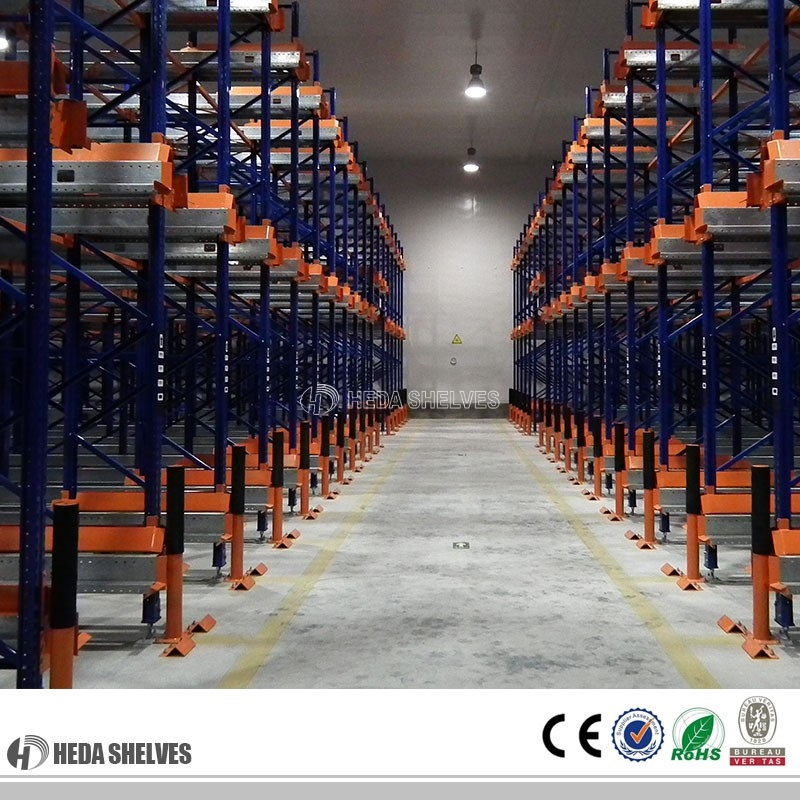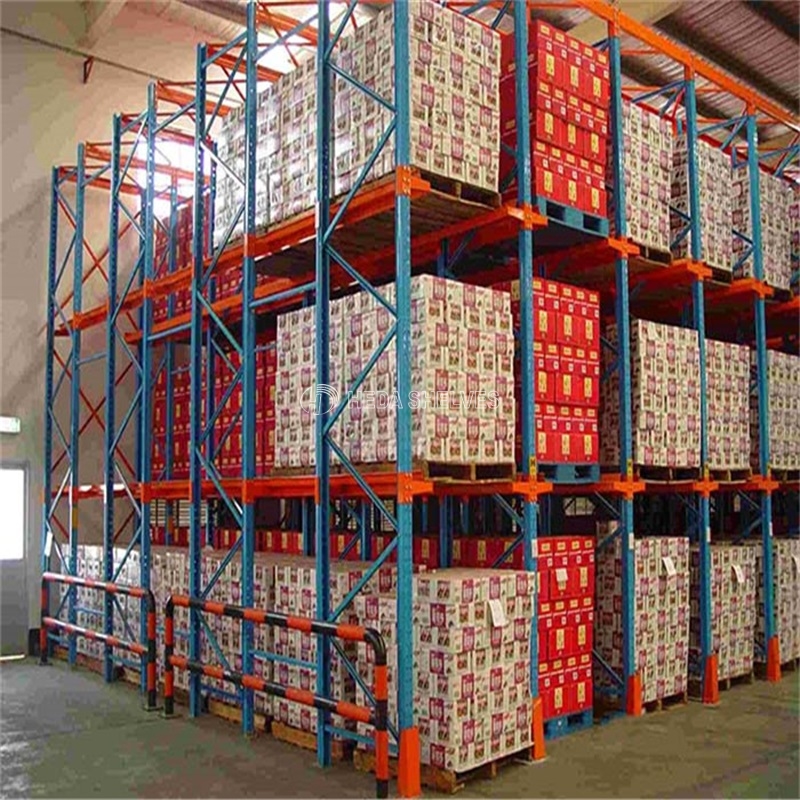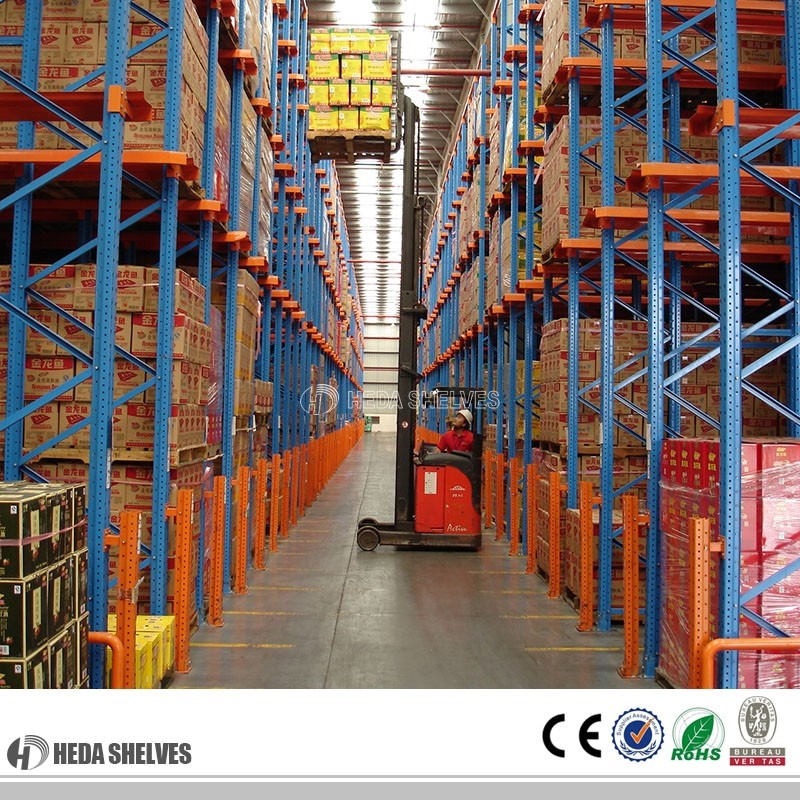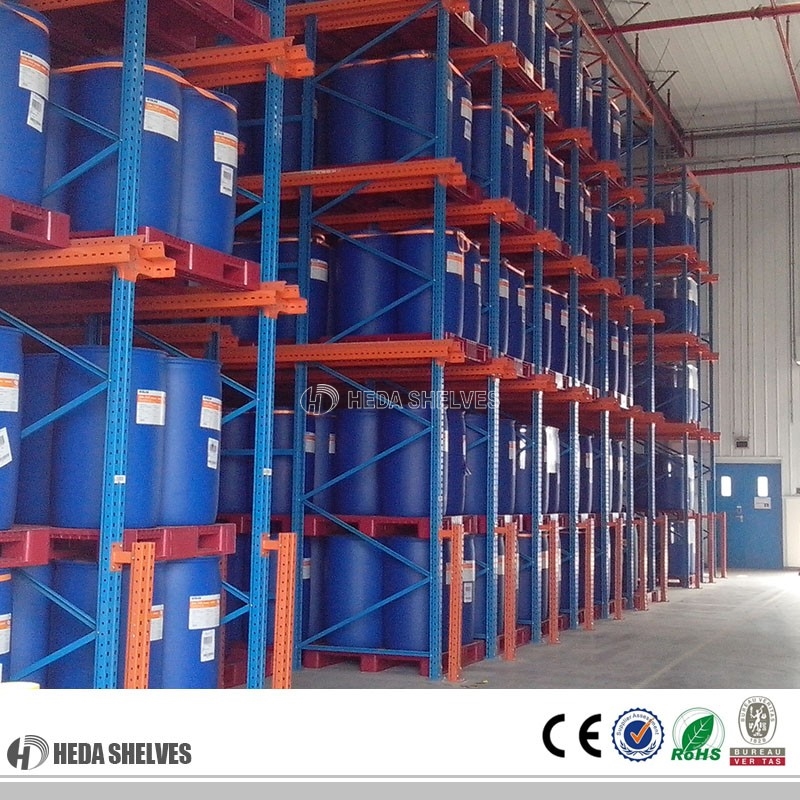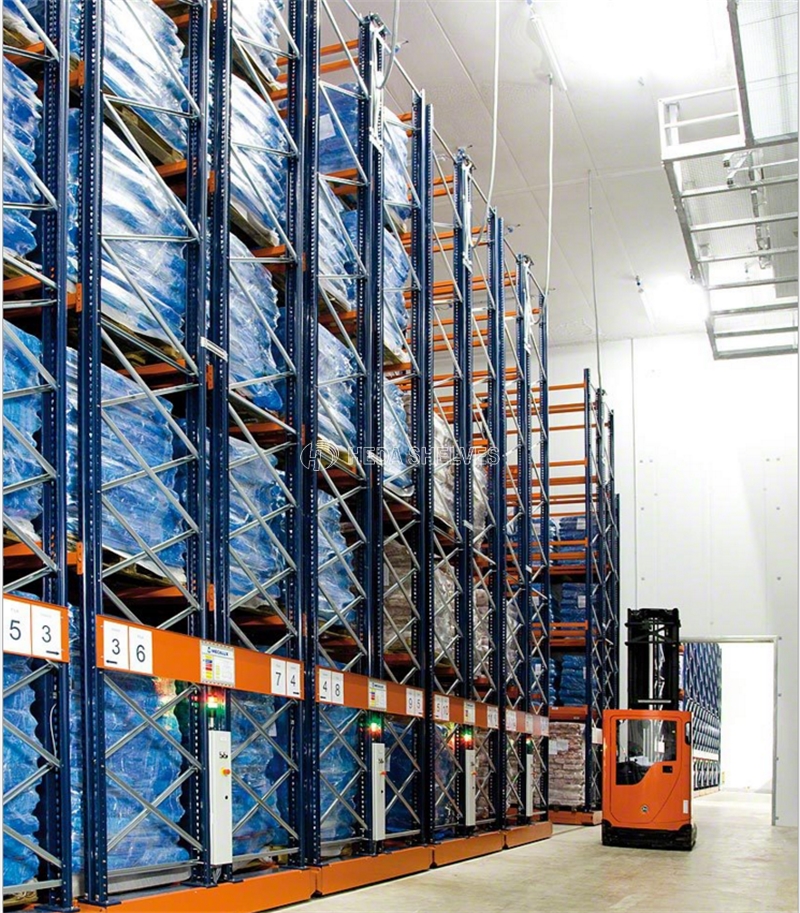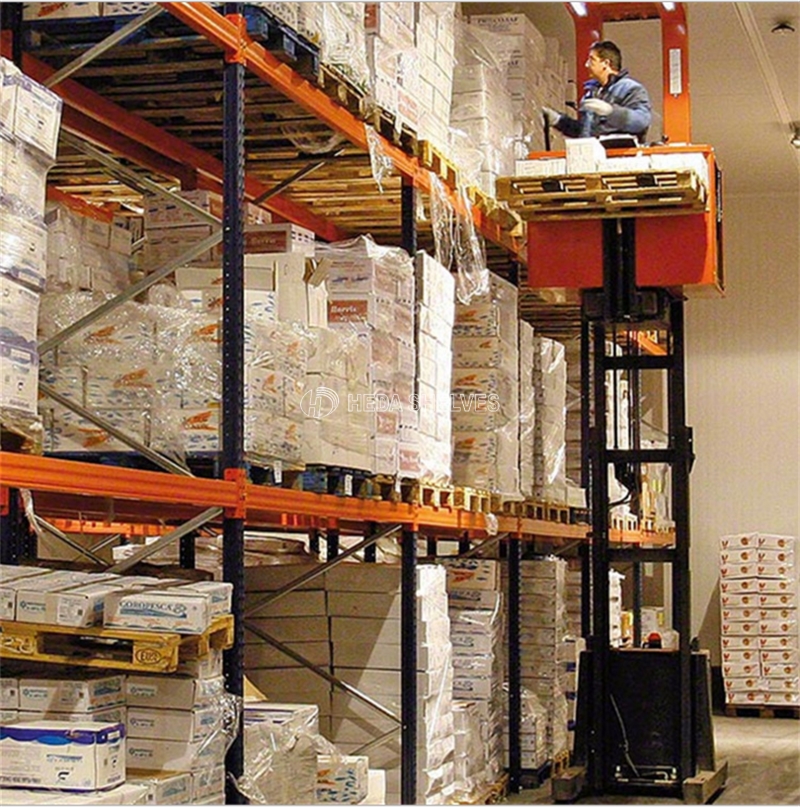 What is the reason for choosing HEDA's Drive In racking?
Guangzhou HEDA Shelves Co., Ltd., established in 2011, is a professional company specializing in designing, manufacturing, selling and installing all types of displays and storage shelves, supermarket equipments. HEDA Shelves Co., Ltd. located in Pazhou - the Exhibition Base of Chinese Import and Export Fair Complex. We participates in many exhibitions every year, such as Canton Fair, TILOG - LOGISTIX 2018, etc. We have made various fashionable and shelves for different well-known brand customers. Our products are very popular in Southeast Asia, Japan, America, Canada, Australia and Europe. Our factory is about 12000 square meters and has various machine equipments, such as punching machine, pressing machine, bending machine, welding machine and so on. Our products include the following series: warehouse storage shelves (light-duty shelves, medium-size shelves, heavy-duty shelves, warehouse racks and storage pallets), supermarket shelves (light-duty gondolas, heavy-duty gondolas, promotion carts, shopping trolleys, shopping baskets and checkout counters), tool display racks and more. All the products can be customized.
We have gained great credit from our foreign customers. We serve clients with the consistent principle of "the Best Quality, Durable Structure, Perfect Design,Punctual delivery and Customer Satisfaction". Scientific designs, delicate workmanship, reasonable prices and the best services make our corporate image perfect. Our development relies on your active participation and we will make every effort for further growth. For your support, we will move forward and further be the perfect shelf manufacturer and your best business partner!