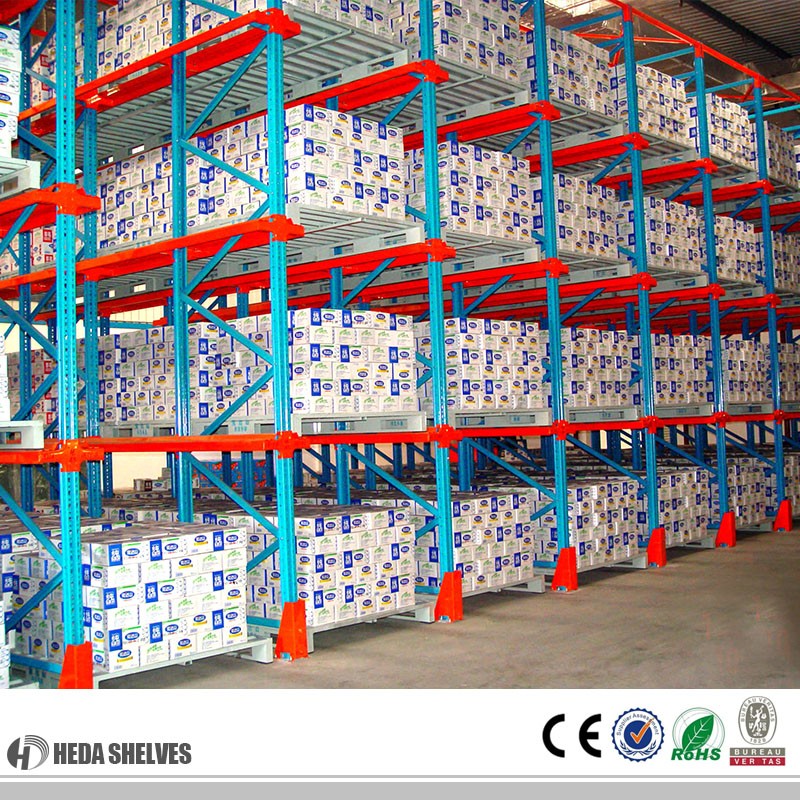 The Drive in storage system is made up of sets of frames and vertical uprights joined together to form inner lanes.
Drive-in racking is particularly well suited for storing large volumes of the same item, for pressure-sensitive or unstable goods, for small- to medium-sized product ranges, and for low-turnover items. This racking system is also ideal for seasonal or buffer storage, and for storing products with a long shelf life.
HIGHLIGHTS

Can be configured for LIFO/FIFO dispatch

Suitable for industries involved in batch production

Safety & Stability elements to support your operation

Adaptable to varying pallet / load heights

Wide range of accessories to enhance safety during operations
Each lane is equipped with support rails on both sides, laid out at different levels, on which pallets are placed. For loading and unloading operations, the forklift truck enters the lanes with the unit load lifted above the rail where it will be placed.
There are two types of storage for the compact system, with the Drive in type being the most common:
Drive in pallet racking (LIFO - Last in, First out)
This is the most common compact racking system and only needs a single access aisle for the forklift. It uses the LIFO method, so the last load in is the first one out. Drive in compact racking is indicated for warehouses with low material turnover.

Drive through pallet racking (FIFO – First in, First out)
This solution requires two accesses, one on each side of the racking. It uses the FIFO method, as the first load in is the first one out. Because it allows access from both the front and rear sides, drive through compact racking is a suitable system for high turnover products.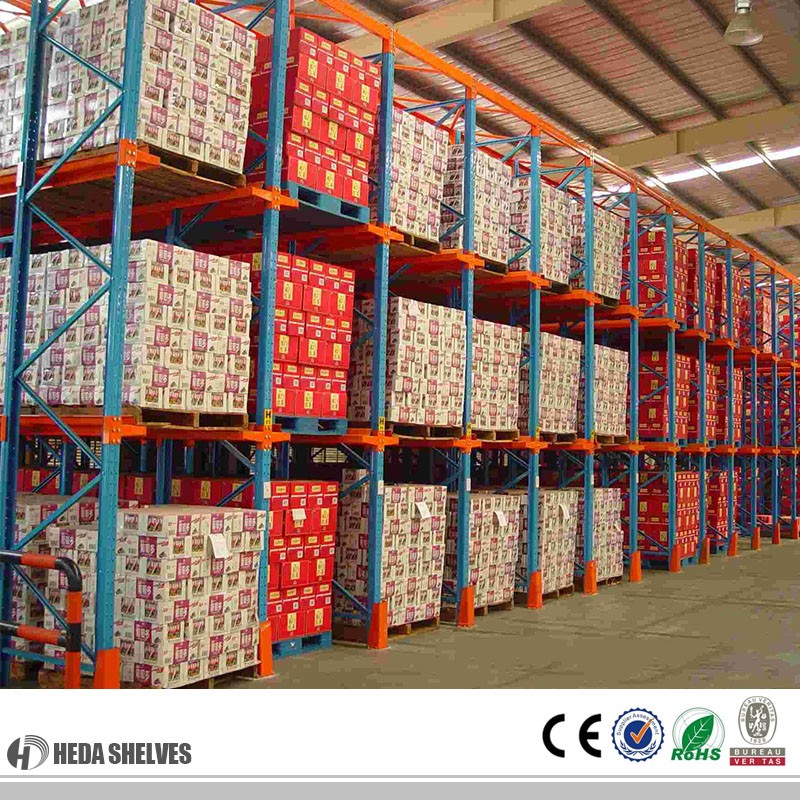 ABOUT HEDA SHELVES
We have gained great credit from our foreign customers. We serve clients with the consistent principle of "the Best Quality, Durable Structure, Perfect Design,Punctual delivery and Customer Satisfaction". Scientific designs, delicate workmanship, reasonable prices and the best services make our corporate image perfect. Our development relies on your active participation and we will make every effort for further growth. For your support, we will move forward and further be the perfect shelf manufacturer and your best business partner!
Guangzhou HEDA Shelves Co., Ltd., established in 2011, is a professional company specializing in designing, manufacturing, selling and installing all types of displays and storage shelves, supermarket equipments. HEDA Shelves Co., Ltd. located in Pazhou - the Exhibition Base of Chinese Import and Export Fair Complex. We participates in many exhibitions every year, such as Canton Fair, TILOG - LOGISTIX 2018, etc. We have made various fashionable and shelves for different well-known brand customers. Our products are very popular in Southeast Asia, Japan, America, Canada, Australia and Europe. Our factory is about 12000 square meters and has various machine equipments, such as punching machine, pressing machine, bending machine, welding machine and so on. Our products include the following series: warehouse storage shelves (light-duty shelves, medium-size shelves, heavy-duty shelves, warehouse racks and storage pallets), supermarket shelves (light-duty gondolas, heavy-duty gondolas, promotion carts, shopping trolleys, shopping baskets and checkout counters), tool display racks and more. All the products can be customized.