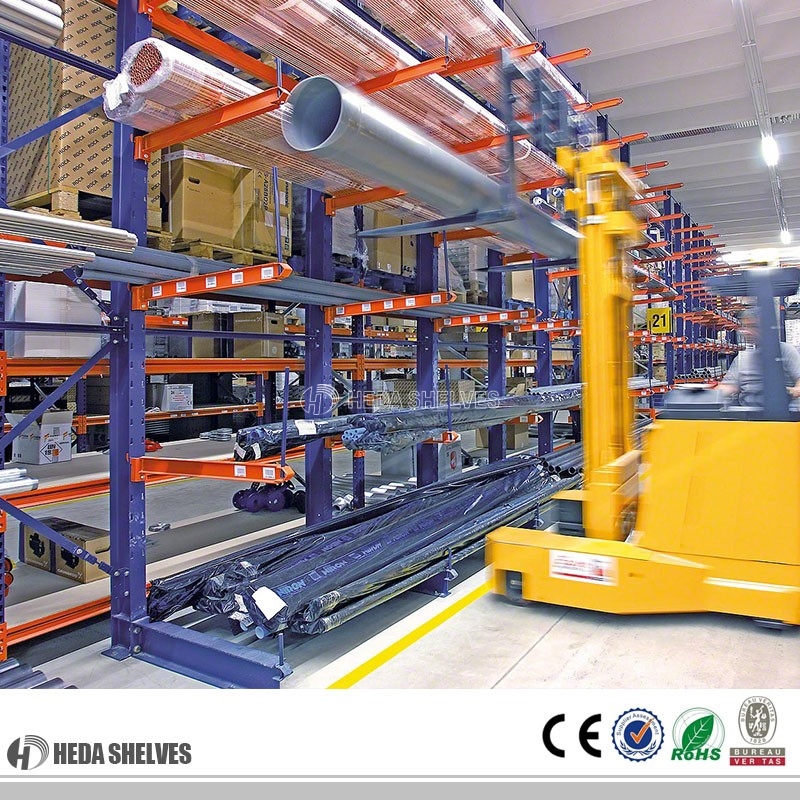 The Cantilever Racking is ideal for storing long and volume loads in bulk: such as tubes, beams, etc.
This type of specific solution is made up of a base, columns, and strong and versatile cantilever arms.
Cantilever racking is specially designed to store long items or items of varying length, such as metal beams, pipes, moulding, wooden crates etc.Depending on the height and weight of the merchandise, either light or heavy duty racking are available.
BENEFITS

Suitable to store long items

Handling through special MHEs or Forklifts with special attachment
Easy assembly.
Simple and resistant structure.
Great mobility.
The rack consists of columns and cantilever arms and can be configured for either single or double sided use. Depending on the chosen coating, the racks can be used indoors (plastic-coated or painted) or outdoors (hot-dip galvanised).
Product Description
Heavy Duty Cantilever Racks are particularly suitable for storing lumber, long loads, and heavy loads, like car. It can offer the possibility of locating the levels (arms) on one or both sides of the fully independent structure. It features structural stability, high carrying capacity, large amount of storage. Its very common and practical for industrial use. Also, this rack can range in sizes, gauges and accessories are available to meet all your requirements.
Cantilever arm elevations are easily adjustable to accommodate any size of goods. Its unique Rotate Arms can prevent goods and arms from being damaged by accidental operation. This Heavy Duty Cantilever Racks have high safety factor, and can help you fulfill the modern warehousing needs of low cost, low loss and high efficiency.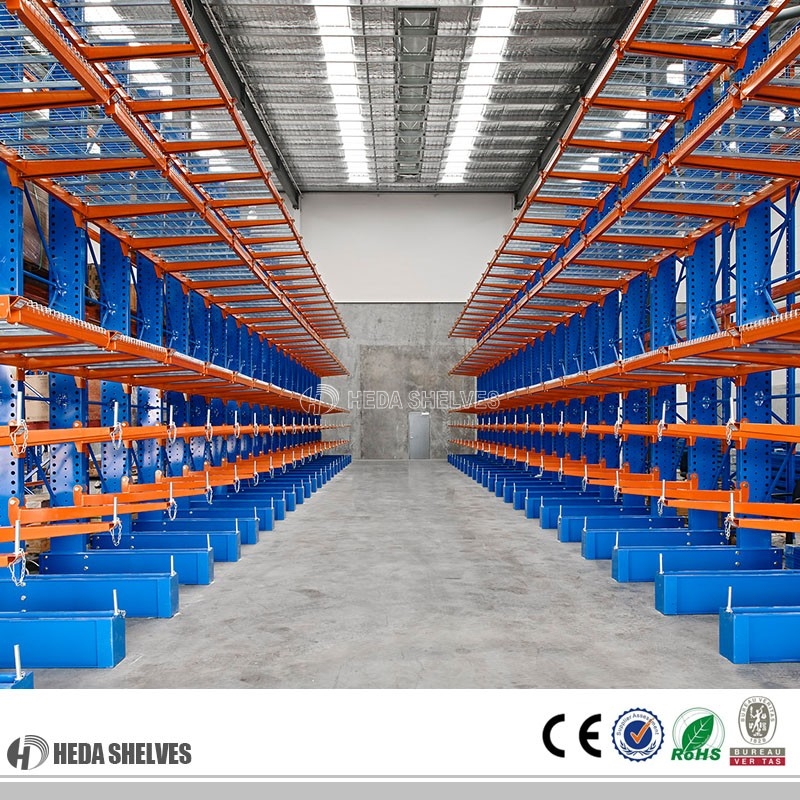 ABOUT HEDA SHELVES
We have gained great credit from our foreign customers. We serve clients with the consistent principle of "the Best Quality, Durable Structure, Perfect Design,Punctual delivery and Customer Satisfaction". Scientific designs, delicate workmanship, reasonable prices and the best services make our corporate image perfect. Our development relies on your active participation and we will make every effort for further growth. For your support, we will move forward and further be the perfect shelf manufacturer and your best business partner!
Guangzhou HEDA Shelves Co., Ltd., established in 2011, is a professional company specializing in designing, manufacturing, selling and installing all types of displays and storage shelves, supermarket equipments. HEDA Shelves Co., Ltd. located in Pazhou - the Exhibition Base of Chinese Import and Export Fair Complex. We participates in many exhibitions every year, such as Canton Fair, TILOG - LOGISTIX 2018, etc. We have made various fashionable and shelves for different well-known brand customers. Our products are very popular in Southeast Asia, Japan, America, Canada, Australia and Europe. Our factory is about 12000 square meters and has various machine equipments, such as punching machine, pressing machine, bending machine, welding machine and so on. Our products include the following series: warehouse storage shelves (light-duty shelves, medium-size shelves, heavy-duty shelves, warehouse racks and storage pallets), supermarket shelves (light-duty gondolas, heavy-duty gondolas, promotion carts, shopping trolleys, shopping baskets and checkout counters), tool display racks and more. All the products can be customized.